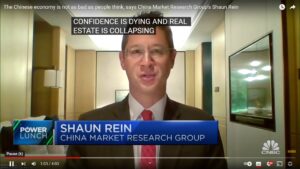 China's economy looks better for 2024, says business analyst Shaun Rein, as multinationals are moving back their investments to China away from other destinations. Both consumer confidence and real estate are still in bad shape, but sentiments are moving in the right direction, he says at CNBC, despite the geopolitical tensions with the US.
Shaun Rein is a speaker at the China Speakers Bureau. Do you need him at your meeting or conference? Do get in touch or fill in our speakers' request form.
Are you looking for more strategic experts at the China Speakers Bureau? Do check out this list.
Please follow and like us: