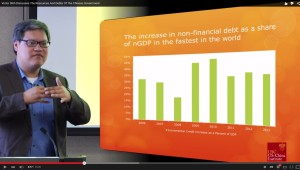 As China prepares for the second term of president Xi Jinping, the world wonders what is behind his acts. Political analyst Victor Shih, author Factions and Finance in China: Elite Conflict and Inflation takes at the Guardian a helicopter view on Xi's anti-corruption drive, his global aspirations and plans for the future.
The Guardian:
Soon after coming to power in 2012, Xi began a sweeping anti-graft campaign that has seen about 1.3 million officials punished in some form. But Xi's work to weaken rival factions at the pinnacle of Chinese politics has left him the last man standing. Zhou Yongkang, the former security czar, became the highest ranking official since the founding of the People's Republic to be jailed on corruption charges.

"Xi has a very particular vision of where China is going: for China to enter the centre stage of world affairs and reshape the global order," said Victor Shih, a politics professor at the University of California, San Diego. "He feels he needs control every little detail to achieve those goals, and will silence officials he thinks stand in his way."

Xi has also targeted high-ranking military officials, with some committing suicide rather than suffer the consequences of a public shaming, and is pushing to establish an anti-corruption watchdog with more extensive powers, ensuring the purges will continue…

Now he is poised to have his name inscribed in the country's constitution as well. But ordinary Chinese people are already accustomed to seeing Xi's name everywhere. While China's state-controlled media has always focused heavily on the achievements of national leaders, Xi was second only to Mao in frequency and intensity of state media coverage, according to a 2014 study.

"The airwaves are saturated with his thoughts, his image and his work, they go out of their way to cover him," said Shih. "It shows he's firmly in control, but also that he is personally responsible for China's direction, instead of the state or the party."…

Xi has centralised power in his own hands to a greater extent than even Deng Xiaoping, and for junior officials to critique Xi's policies would amount to career suicide.

"If he makes a policy mistake, no one is going to be there to correct him," said Shih. "What used to be healthy policy debates will turn into sycophancy."

Shih pointed to the creation of a new city called Xiong'an, meant to be a satellite capital to Beijing where non-essential departments are based, as a "massive waste" helmed by Xi.

In theory absolute power comes with absolute responsibility, but so far Xi has been able to deflect the blame for crises, like a stock market meltdown in 2015.
Victor Shih is a speaker at the China Speakers Bureau. Do you need him at your meeting or conference? Do get in touch or fill in our speakers' request form.
Are you looking for more strategic analysts at the China Speakers Bureau? Do check out this list.
Related articles
Please follow and like us: