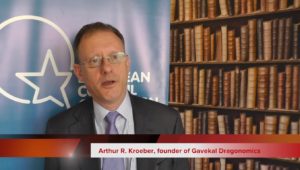 China has reacted pretty cool on the increased signals US president Donal Trump is heading for a trade war, says leading economist Arthur Kroeber, author of China's Economy: What Everyone Needs to Know® to the Washington Post. While the traditional conflict-solving procedures at the WTO might not fit the tit-for-tat approach of a trade war, China can afford to keep its composure.
The Washington Post:
Many will now wonder whether the United States is not a greater threat to the world trading system, said Arthur Kroeber, managing director of the Beijing-based research firm Gavekal Dragonomics.

"China can afford to play it pretty cool and measured, as they have been doing ever since Trump took office," Kroeber said. "They take a small, really negligible, hit to their steel and aluminum exports, but strategically they come out way ahead by just letting Trump be Trump."
Arthur Kroeber is a speaker at the China Speakers Bureau. Do you need him at your meeting or conference? Do get in touch or fill in our speakers' request form.
Are you looking for more political analysts at the China Speakers Bureau? Do check out this list.
Please follow and like us: