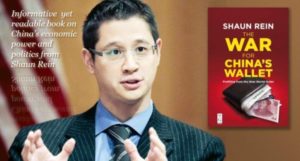 Foreign companies would watch in fear media campaigns at China's consumers day in the past. But this Thursday, consumer day will be a backdrop for upcoming months of tensions, now a trade war is looming, says business analyst Shaun Rein, author of The War for China's Wallet: Profiting from the New World Order to Bloomberg.
Bloomberg:
This year's installment comes amid a period that has seen geopolitics impact the Chinese operations of many multinationals. Beijing has retaliated against Korean businesses for Seoul's support of a U.S. missile-defense system, hurting retailer Lotte Shopping Co. Global companies were also singled out in January for mislabeling China's territories on their websites. And now, companies are facing the prospect of a trade war between Beijing and Washington.
"I do expect more difficulties for American companies in the Chinese media over the coming months, not just on the CCTV day but other times," said Shaun Rein, the Shanghai-based founder and managing director of China Market Research Group….

Domestic companies will also likely be on edge. Serial acquirers such as Dalian Wanda Group Co. have come under scrutiny as China clamps down on financial risk. Liquor company Kweichow Moutai Co. has been criticized for having a lofty market valuation.

One possible comfort for both foreign and domestic corporations: while CCTV has had a powerful impact on both consumers and companies in the past, its influence may be weakening. Especially after Japanese retailer Muji was cleared of claims after last year's program accused it of importing foods from areas contaminated by radiation.
"It seems that the power of the CCTV thing has gone down," Rein said. "Consumers are kind of bored of it. They realize it's kind of propaganda and very often targets companies that are doing OK."
Shaun Rein is a speaker at the China Speakers Bureau. Do you need him at your meeting or conference? Do get in touch or fill in our speakers' request form.
Are you looking for more political experts at the China Speakers Bureau? Do check out this list.
Please follow and like us: