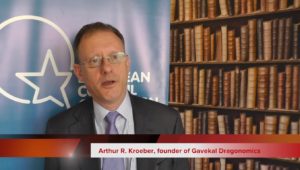 The appointment of Liu He as president Xi Jinping's economic top man has started speculations on his political direction, including a restart of reforms. We should not expect Liu to divert too much from the state-driven economic agenda Xi has already set out in the past few years, says leading economist Arthur Kroeber, author of China's Economy: What Everyone Needs to Know® to the New York Times.
The New York Times:
 Those expecting a sweeping opening of China's economy are likely to be disappointed, some experts warn. While Mr. Liu is considered an able policymaker, his main mission will be to implement Mr. Xi's vision of an economy that serves the interest of the party and the Chinese state, and not the other way around.

Mr. Liu is "a steady pair of hands who has apparently managed many economic issues competently over the past couple of years," said Arthur Kroeber, managing director of Gavekal Dragonomics, an independent economic research firm.

But, Mr. Kroeber added, "the direction of economic policy under Xi has become quite clear over the past few years: state capitalism, with a large role for strengthened or consolidated state-owned enterprises, co-optation of private companies to serve state agendas."

Mr. Liu's appointment helps advance a push by Mr. Xi to consolidate the regulatory bodies that oversee the world's No. 2 economy. This goal was apparent last week, when the congress approved a sweeping reshuffling of government that merged many separate agencies into a smaller number of superministries.
Arthur Kroeber is a speaker at the China Speakers Bureau. Do you need him at your meeting or conference? Do get in touch or fill in our speakers' request form.
Are you looking for more political analysts at the China Speakers Bureau? Do check out this list.
Please follow and like us: