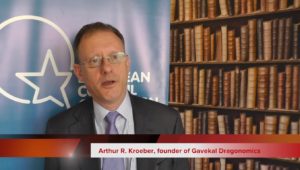 If the current plans for impose 25% US tariffs on Chinese import are really executed, they will cause damage to China's economy, says economist Arthur Kroeber, author of China's Economy: What Everyone Needs to Know, says at CNBC. But it is unlikely the trade war will derail the long-term reform plans, he adds.
CNBC:
Despite the predictions of a renewed focus on reform, it's unclear whether Beijing will be able to speed up its economic policy changes, which can often take years.

The government will likely focus on fiscal spending to maintain growth, while the ongoing timetable for structural reform won't be affected, said Arthur Kroeber, head of research at China-focused economic research firm Gavekal Dragonomics.

The bigger concern for Beijing is whether Trump will forge ahead with 25 percent tariffs on $200 billion worth of Chinese goods. That could hit China's GDP by one percentage point or more, Kroeber said.
Arthur Kroeber is a speaker at the China Speakers Bureau. Do you need him at your meeting or conference? Do get in touch or fill in our speakers' request form.
Are you looking for more political experts on the China Speakers Bureau? Do check out this list.
Please follow and like us: