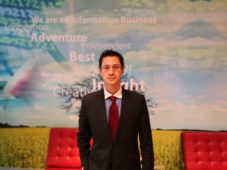 McDonald's, Starbucks, KFC and Burger King are some of the American consumer brands in China who can get burned as the trade war heats up further, says business analyst Shaun Rein, author of The War for China's Wallet: Profiting from the New World Order, to the South China Morning Post.
The South China Morning Post.
China is a prime market for US empires like Starbucks, KFC and McDonald's, while Burger King recently announced plans to expand its presence there.

"There is a huge risk in general for American brands, but especially for iconic ones like Starbucks," said Shaun Rein, managing director at China Market Research Group. "With increased competition, combined with nationalism, and the trade war as a back drop, it is very possible Chinese consumers will boycott McDonald's and Starbucks and instead go to Chinese brands."

KFC makes up China's largest network of restaurants, with 8,200 outlets and is the largest fast-food brand. It had a 5.2 per cent share of the market, worth US$6.63 billion, last year. Illinois-founded McDonald's was in second place with a 2.4 per cent market share worth US$3.14 billion, and Florida-based Burger King was fourth, with 0.6 per cent, according to market research provider Euromonitor International…

In April, messages emerged on Chinese social media urging people to boycott American firms. Little impact has been seen so far, said Rein, but "if this trade war gets worse I could very easily see the government targeting Western brands."

"So far in this trade battle the Chinese government have been very measured. They have criticised Trump but not American companies," he said. "However, we have started to see in the last two weeks more Chinese getting angry at America because they view this is as no longer a trade war but a containment strategy – that Trump is using it as an excuse to contain China's long-term economic rise, rather than iron out trade issues.

"These companies could come in for a rough time."

Florida-based hamburger restaurant Burger King has big plans. Daniel Schwartz, CEO of parent company Restaurant Brands International, recently said they plan to focus their global expansion on China. They intend to open more than 150 branches of the Canadian coffee chain Tim Hortons, for the first time.

"It is unlikely timing for them, but the reality is that you have to plan five to 10 years down the line. The hope is that the trade war will pass over the next six to 12 months and you need to go where the growth is," said Rein.
More at the South China Morning Post.
Shaun Rein is a speaker at the China Speakers Bureau. Do you need him at your meeting or conference? Do get in touch or fill in our speakers' request form.
Are you looking for more experts on the ongoing trade war between China and the US? Do check out this list.
Please follow and like us: