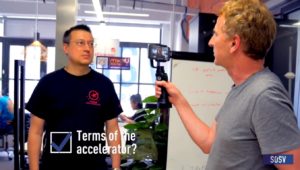 Enterprise accelerator MOX (mobile only accelerator) let six startups show-case in Singapore last week. William Bao Bean, partner at the Shanghai-based SOSV explains how his network helps to use big data to enhance their chances on a global market, he tells at E27.
E27:
As its name suggests, MOX invests and works with mobile-focused startups to refine their solutions, business models and teams. It also helps them acquire users by connecting them with 167 million smartphone users on its platform, partnering them with brands and telcos, and also via cross-promotion with other apps (in return for revenue share).

William Bao Bean, General Partner, SOSV, said that MOX helps startups analyse large swaths of market data so they can optimise their localisation and monetisation strategy.

Currently, MOX focuses on India, Indonesian and Philippines-based startups. It is looking to expand to other countries in the region, such as Malaysia and Vietnam, in the near future.

That said, it is also open to companies that hail from other parts of the world — as long as they have an amazing product to share. At its 5th Demo Day in Singapore today, MOX showcased 6 such mobile startups.
William Bao Bean is a speaker at the China Speakers Bureau. Do you need him at your meeting or conference? Do get in touch or fill in our speakers' request form.
Are you looking for more internet experts at the China Speakers Bureau? Do check out this list.
Please follow and like us: