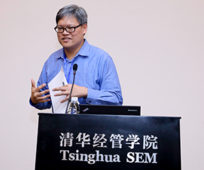 China's financial institutions ponder on the pros and cons of a currency devaluation as the effects of the trade war with the US start to kick in. While devaluation is on the agenda, it would be a tricky road, says financial analyst Victor Shih, author of Factions and Finance in China: Elite Conflict and Inflation
, at CapitalWatch.
CapitalWatch:
Meanwhile, the famed trade surplus the export powerhouse ran with the rest of the world has been shrinking.

Victor Shih, an associate professor of political economy at the University of California, San Diego, says currency devaluation could be an attractive option for China to offset the impact of the trade war.

But he warned the tactic had limits, as it "could create a panic on the renminbi which becomes difficult to control."…

U.S. President Donald Trump has announced tariffs on about half of China's roughly $500 billion of annual exports to the United States in a tit-for-tat trade war, and has threatened to broaden those penalties.

Analysts say the trade spat could lead to heavier pressure on the yuan if China's trade surplus shrinks and gloomy economic prospects deter multinational investments in the country.

Shih estimates that even a modest 20 percent reduction in exports to the United States could cause the monthly trade surplus to drop by $8 billion to $10 billion, nearly a third of the average. In addition, a reduction in foreign direct investment, which brought $136 billion into China last year, would also reduce forex inflows substantially, he added…

The most recent data from the State Administration of Foreign Exchange (SAFE) shows that China had total foreign liabilities of $5.3 trillion at the end of the second quarter, of which $1.13 trillion was portfolio investments – equity and debt securities that foreign investors could attempt to offload in the event of market panic.

Broader SAFE data showed China's total external debt, excluding Hong Kong and Macau, at $1.84 trillion at the end of the first quarter, an increase of $455 billion from the end of 2016.

Although not all of those exposures are at risk of fleeing China's shores, analysts say they put the size of China's $3 trillion in foreign exchange reserves into perspective.

Shih said existing capital controls were very stringent.

"Even the billionaire class faces tight restrictions in terms of where they can invest money," he said. "However, there are still ways, and it is likely that corruption is returning, which will undermine Chinese capital control measures."
Victor Shih is a speaker at the China Speakers Bureau. Do you need him at your meeting or conference? Do get in touch or fill in our speakers' request form.
Are you looking for more experts on the ongoing trade war? Do check out this list.
Please follow and like us: