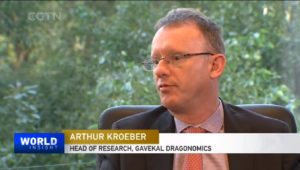 On March 1 the 90-day truce in the trade war between the US and China expires. Leading economist Arthur Kroeber, author of China's Economy: What Everyone Needs to Know®, expects a deal is possible, but that certainly does not mean the end of all hostilities, he tells Barron's.
Barron's:
Many investors are still skeptical whether U.S.-China trade negotiations could see any real breakthrough by the March 1 deadline. But Arthur Kroeber from Gavekal Research believes the odds are tilting slightly toward a deal, as an embattled President Donald Trump seeks a political win at home and China is eager to take some pressure off its slowing economy.

China has taken a number of steps to address U.S. concerns since the December truce, including buying U.S. soybeans, lowering tariffs on U.S. autos, playing down the Made in China 2025 program, and establishing new penalties and laws to restrict the forced transfer of technology.

But a deal doesn't have to solve every trade issue.

"U.S. hard-liners can still use export controls to pressure China," explains Kroeber. "This would shift the trade war from a macro risk to a tech-specific risk." But some kind of deal before the deadline can prevent further tariffs and lift stocks of multinational companies in both countries that depend on trade.

China's economy has been showing weakness since last year, but recently enacted stimulus measures should start showing results later this year. With policy support and positive trade developments, China should still be able to grow its gross domestic product by more than 6% in 2019, estimates Kroeber. That would certainly help calm fears that a slowdown in the world's second-largest economy will lead to a global recession.
Arthur Kroeber is a speaker at the China Speakers Bureau. Do you need him at your meeting or conference? Do get in touch or fill in our speakers' request form.
Are you looking for more experts on the ongoing trade war at the China Speakers Bureau? Do check out this list.
Please follow and like us: