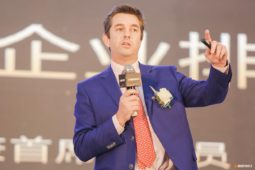 The arrest on Meng Wanzhou, the Huawei CFO, in Canada, has a huge impact on business relations, says Hurun chief researcher Rupert Hoogewerf, who was in Canada for the Hurun Canada Fortune Forum on Sunday in Markham, to the China Daily.
The China Daily:
At a Hurun Canada Fortune Forum on Sunday in Markham, hundreds of business people from the Federation of Canadian Chinese Chamber of Commerce, along with Canadian government officials, gathered to discuss wealth management and trade between the two countries amid tensions over the Dec 1 arrest of Huawei Chief Financial Officer Meng Wanzhou at the behest of the United States.

The Hurun Report is recognized as an authority in tracking the rapid change among China's high net-worth individuals.

The chairman and chief researcher of the Hurun Report, Rupert Hoogewerf, also known by his Chinese name Hu Run, said at the forum that the arrest of Meng has affected local businesses.

"Everybody in our community is talking about it because it has impacted our business and travel, and we don't want to see this tension escalating," he said, adding that the globalization of wealth needs "more connection rather than disconnection".

There has been a lot of wealth created in China over the last 20 years, and the current trend is to spread out and diversify such wealth to the rest of the world, Hoogewerf said.

"The first choice is North America. We see the US and Canada are the preferred destinations for Chinese to live. Many Chinese want to do business in North America, but the current situation needs to be resolved first to facilitate trade and business activities," he said.
Rupert Hoogewerf is a speaker at the China Speakers Bureau. Do you need him at your meeting or conference? Do get in touch or fill in our speakers' request form.
Are you looking for more stories by Rupert Hoogewerf? Do check out this list.
Please follow and like us: