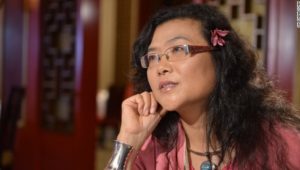 State TV has been pulling a set of historical dramas from their channels because they were having a negative influence on their audiences, according to state media. Journalist Zhang Lijia, the author of Lotus, a novel, a bestseller on prostitution in China, understands the ratio behind this action, she tells in the South China Morning Post.
The South China Morning Post:
Chinese social commentator Zhang Lijia said she understood the concerns of the people and the authorities.

"I do see some points that the article [critizing the historical dramas] made. To go far in life, you have to play tricks and be ruthless and nasty to each other. Already there's moral decline in today's China," she said.

Zhang also saw the article's criticism as a reflection of the current general crackdown, recalling that some conservatives had made similar noises in the past when the political atmosphere was tightened.

For example, a few years ago a senior retired official had criticised young girls with dyed hair clad in sexy outfits on a talent show for being out of line with socialist values.

"These costume dramas are hugely popular and therefore money makers. I'd be very surprised if they are banned. Then, who knows. The top leaders have become less predictable," Zhang said.
More in the South China Morning Post.
Zhang Lijia is a speaker at the China Speakers Bureau. Do you need her at your meeting or conference? Do get in touch or fill in our speakers' request form.
Are you looking for more stories by Zhang Lijia? Do check out this list.
Please follow and like us: