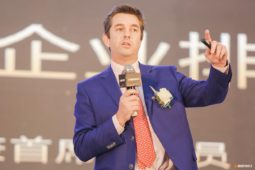 The stagnation of China's growth caused a massive drop of rich out of the Hurun China Rich List, says Hurun chief researcher Rupert Hoogewerf. But that drop has been more than compensated by the record growth of new unicorns in the country, he tells the South China Morning Post. China fostered almost 100 new unicorns in 2018.
The South China Morning Post:
"This year, we have a record high number of people dropping from our Hurun China Rich List because of an economic slowdown," said Ruper Hoogewerf, the chairman and chief researcher at Hurun, in a statement on Thursday.

"However, there are still more than 200 new billionaires on the rich list and the leading companies of these new billionaires are these unicorns."

The latest Hurun findings further burnish how China's start-ups – in industries spanning e-commerce and financial technology to transport and artificial intelligence – have helped transform the way the country's people shop, travel, invest, eat and get entertainment over the past decade, riding on a flood of enthusiastic investments from domestic and overseas venture capitalists.

On-demand internet services unicorns, however, increased the most to 45. These include car-hailing app operator Ucar and JD Digits, the fintech unit of China's second-largest e-commerce services provider JD.com.

While a total of 24 Chinese unicorns went public in 2018, some of these are now trading below their initial public offering prices like smartphone giant Xiaomi Corp and on-demand local services provider Meituan Dianping. That has resulted in investors' weakened confidence in Chinese unicorns and triggered concerns about these firms being overvalued.

Hoogewerf, however, suggested these concerns are exaggerated. "Of the 24 unicorns that went IPO last year, over 70 per cent beat their pre-IPO valuation, which goes to show there is less of a bubble in the valuations than some people suggest," he said.

Hurun also found that Beijing, Shanghai and Hangzhou were home to the most number of fast-growing Chinese start-ups last year – with 79, 42 and 18 unicorns, respectively, based in those major cities.
More in the South China Morning Post.
Rupert Hoogewerf is a speaker at the China Speakers Bureau. Do you need him at your meeting or conference? Do get in touch or fill in our speakers' request form.
Are you interested in more stories by Rupert Hoogewerf? Do check out this list.
Please follow and like us: