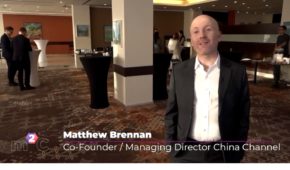 WeChat is one of the largest social platforms in the world, and an example of what Facebook CEO Mark Zuckerberg wants to do with his platform. WeChat expert Matthew Brennan is one of three avid WeChat users explaining to the Jing Daily what WeChat means for his daily life, including their mini-programs.
Jing Daily:
Matthew: WeChat is primarily a communication tool for me. Some days, I'll communicate with anywhere between 10 to 100 people in a single day. It's also time-consuming to manage a 440-person WeChat group…

I also use mini-programs on a daily basis — at least once a day. The most popular ones are Meituan Dianping (food delivery) and Luckin Coffee. I also use one for requesting and sending invoices…

If I am offline and am going to a convenience store or a market to buy some clothes [I'll use it]. I use it to pay for pretty much any daily purchases you can think of. I rarely use Alipay. I opt for other types of payments only when paying a large sum, like my daughter's kindergarten tuition. If you speak with people in Shanghai, they use a lot of Alipay. It's popular in first-tier cities and among young people. WeChat is definitely more universal and lets older generations to purchase offline. Shenzhen and Guangzhou are much more skewed to WeChat because that's where the company is based…

WeChat official accounts are an important part of the content ecosystem. On average, I will read at least two articles about tech on WeChat a day. I access them from in the subscription account folder, through content shared in Moments, and from "Top Stories"(看一看). I also run my own official accounts and update them about once a month…

Commenting from a business strategy perspective: three contenders to WeChat were recently released on the same day including Duoshan from Bytedance, which has gained a lot of media attention. The most popular quote online from a social media user was this: "I had a good time chatting on three products, but we still want to keep in touch, so we added each other on WeChat." I think it nicely sums up the situation regarding any alternative communication platform that would like to rival WeChat.
Matthew Brennan is a speaker at the China Speakers Bureau. Do you need him at your meeting or conference? Do get in touch or fill in our speakers' request form.
Are you looking for more innovation experts at the China Speakers Bureau? Do check out this list.
Please follow and like us: