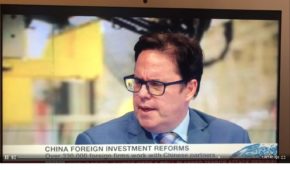 Some analysts see in the new Foreign Investment Law a way for China to placate the US, but China veteran Mark Schaub sees here no quick fix triggered off by the trade war. It is the first new foreign investment law since the Berlin Wall came down, he says to the BBC News Service.
Then China's companies did not invest at that time as much as they do now. Chinese consumers did not purchase as much as they do now, he says. The way China is going to regulate foreign exchange is one of the key new subjects, he says, although he expects there will be less forced technology transfers in the automotive and telecom industries.
Chinese laws at best give a direction for the future, he warns. You will not see fast changes very quickly.
Mark Schaub is a speaker at the China Speakers Bureau. Do you need him at your meeting or conference? Do get in touch or fill in our speakers' request form.
Are you looking for more strategic experts at the China Speakers Bureau? Do check out this list.
Please follow and like us: