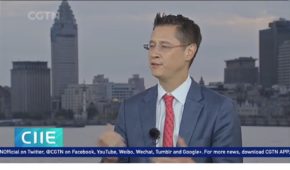 Shaun Rein, Shanghai-based author of the bestseller, The War for China's Wallet: Profiting from the New World Order, has for a long time been a bull on China's economy. But now he sees the labor market going downhill, and consumer appetite following suit, he tells in Forbes.
Forbes:
Q. What's your take on China's economy?

A. It's much weaker than people realize. Labor markets are bad. Starting in October, it became very difficult for even kids from top universities like Stanford and Columbia to get jobs.  When we started our business in 2005, they would graduate from the U.S. in June, they looked for a visa in the United States for three or four months, couldn't get one, and then came back to China. It used to take me a week in order for me to hire someone. I'd have to decide very quickly. Even in August 2018, we'd have to decide in a week. Now, people that I interviewed in October are still looking for jobs. The labor markets collapsed in October.

So from a consumer spending standpoint, that's hitting hard. They're starting to trade down. They're skipping the big-ticket items like houses and cars. They're still travelling overseas, but they're going not so much to America or the UK; they're now going more closer — so Thailand and Japan. We're very bullish on domestic tourism.

The next thing is they're just trading down in general. So instead of buying a Starbucks latte, they're going to Luckin. Instead of going to Imax movie theaters, they're watching on iQiyi and online videos. So in 2019, the premiumization drive that a lot of people said consumers would do is over, and they're now trading down. A big shift.
Shaun Rein is a speaker at the China Speakers Bureau. Do you need him at your meeting or conference? Do get in touch or fill in our speakers' request form.
Are you looking for more experts on managing your China risk? Do check out this list.
Please follow and like us: