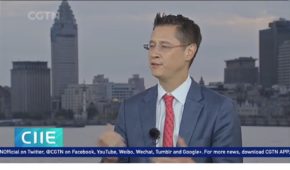 Amazon was the latest online Western casualty in China. The US company has been clueless in organizing its business in China, and it was not the government who killed Amazon, says business analyst Shaun Rein, author of The War for China's Wallet: Profiting from the New World Order in the Voice of America.
The Voice of America:
China is considered by many as a difficult market for foreign players even without taking into account hindrances caused by government policy. In the case of Amazon, however, analysts said the reasons for its poor performance lie in its not being able to localize to meet the requirements of the market.

Shaun Rein, managing director of Shanghai-based China Market Research Group (CMR), said Amazon's Chinese platform could not survive because it did not have a strong and stable management team. He does not think Amazon was hampered by government policy.

"I don't think it is a problem of government protectionism," he said, adding, "They (Amazon executives) didn't have the necessary relationship in China and were unable to build the right ecosystem for people to sell on Amazon."

Getting a large number of local sellers is crucial for an e-commerce platform to provide goods at competitive prices and in sufficient variety to customers…

Foreign internet-based businesses have very little presence in China, which has the biggest number of web users in the world. This is partly because a large number of U.S.-based sites including Google, YouTube and Twitter are banned, while e-commerce companies have walked away. Amazon's departure will likely only make it harder for other foreign retail companies to succeed there.

"I think it would be very hard for large e-commerce players from foreign countries to build in China. It is still possible for niche players like there are opportunities in luxury space and cross-border trade," Rein said.

American and European brands will have to depend heavily on local e-commerce companies like Alibaba and jd.com to see their products, analysts said. Although Amazon will continue to sell foreign-made goods, its reach is limited in China because local companies dominate the cross-border trade as well.

"Unfortunately, Alibaba is almost a monopoly in some ways and they have way too much power because they control the eyeballs," said Rein, adding, "They (Alibaba executives) control traffic so they are able to force Western brands to discount even if Western brands do not want to,"Rein said. "Alibaba controls the relationship with the customer rather than the brand controlling the relationship with the customer."
Shaun Rein is a speaker at the China Speakers Bureau. Do you need him at your meeting or conference? Do get in touch or fill in our speakers' request form.
Are you looking for more experts on e-commerce in China? Do check out this list.
Please follow and like us: