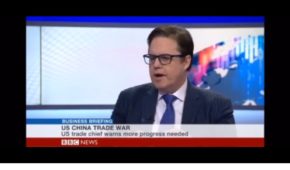 Autonomous driving cars cause a range of issues, for example on collecting data to make them possible. Lawyer Mark Schaub looks at the legal issues when foreign companies have to send data to their headquarters outside China, for the China Law Insight.
Mark Schaub:
During the data collection, the sensors of the test vehicle generally will capture the images and information of other vehicles, pedestrians, cyclists as well as traffic signs, traffic lights, road edges, traffic lanes, other infrastructure and landscape.

Accordingly harvesting and analyzing data are key for many carmakers, auto suppliers and high tech companies. Moreover, international companies active in China will often intend to transfer all or part of such information collected in China to their headquarters or affiliates overseas for further processing, e.g., labelling, validation and function development, etc.

However, both driving a car on China's public roads to collect data through sensors equipped on vehicles ("Data Collection") and transferring such data abroad ("Data Transfer Abroad") may give rise to legal risks under PRC law…

In China, surveying and mapping activities are strictly regulated due to issues of national security, concerns over demarcation of borders and state secrets.

Surveying and mapping is defined broadly under PRC Surveying and Mapping Law. According to Article 2 of the PRC Surveying and Mapping Law, surveying and mapping refers to the surveying, collection and presentation of the shapes, sizes, spatial position and attributes etc. of the key elements of natural geography or man-made facilities on the surface, as well as the activities in processing and providing of the obtained data, information and results.

The PRC Surveying and Mapping Law requires that surveying and mapping in China be carried out exclusively by entities holding a license issued by the relevant governmental authority.

For the Data Collection, if only radar and cameras are used then the likelihood (in our opinion) that such activities will fall within the scope of surveying and mapping under PRC law may not be high. However, use of positioning units and/or LiDAR will likely lead to such data collection falling within the scope of surveying and mapping. The risk level will increase if the Data Collection is conducted by a foreign entity or a foreign invested enterprise (FIE).
Much more at the China Law Insight.
Mark Schaub is a speaker at the China Speakers Bureau. Do you need him at your meeting or conference? Do get in touch or fill in our speakers' request form.
Are you looking for more experts on innovation at the China Speakers Bureau? Do check out this list.
Please follow and like us: