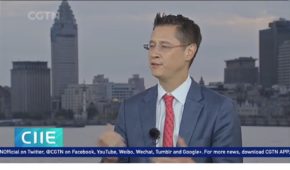 Consumers are changing their purchasing behavior because of the effects of the ongoing trade war between China and the US. Business analyst Shaun Rein tells the CityWireSelection who are the winners and losers of this war.
Shaun Rein:
The US/China trade war is affecting Chinese consumer behaviour more heavily than many investors realise. For example, luxury jeweller Tiffany & Co. reported a 25% drop in Q1 sales to Chinese tourists visiting the US.

Chinese people simply don't want to visit the US right now because they do not feel welcome in Trump's America. The number of Chinese tourists to Hawaii so far in 2019 has dropped by 23%. Chinese people are also starting to skip buying US brands such as Apple.

The big winners out of this shift are Japan, Thailand and domestic Chinese tourist areas such as Yunnan and Gansu. Europe can attract Chinese tourists as well, but much depends on whether the individual country is viewed as pro-China.

Italy, for example, will benefit, as it was the first major western European economy to sign up to China's 'One Belt One Road' initiative. How well luxury players such as Gucci or Louis Vuitton do will depend largely on political issues in the next quarter.
More at the CityWireSelection.
Shaun Rein is a speaker at the China Speakers Bureau. Do you need him at your meeting or conference? Do get in touch or fill in our speakers' request form.
Are you looking for more strategic experts on the China Speakers Bureau? Do check out this list.
Please follow and like us: