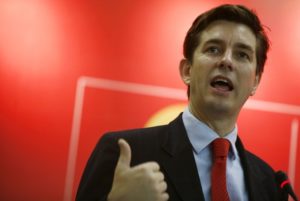 The massive drop of stock markets has wiped away unprecedented amounts of capital, says Hurun China Rich List founder Rupert Hoogewerf at the South China Morning Post. But in that bloodbath, China has been a relatief winner, he adds.
The South China Morning Post:
While most billionaires have seen their fortunes shrink drastically amid a stock market rout brought on by the Covid-19 pandemic and containment measures launched by governments, a handful have seen their wealth rise – significantly.
According to research by Hurun Report calculating the pandemic's impact on billionaires' fortunes, Eric Yuan, the US-based founder and chief executive of Zoom, the video conferencing software company, saw his net worth skyrocket by US$3.5 billion – or 77 per cent – to US$8 billion. This makes him the fast riser of the past two months.

Zoom has become ubiquitous as executives at companies around the world try to stay in touch while working from home.

"The last two months have wiped out all the wealth made in the past two-and-a-half years, with the World's Top 100 down 12.6 per cent, or US$408 billion, equivalent to each of the Hurun Top 100 losing US$75 million a day," said Rupert Hoogewerf, Hurun Report's chairman and chief researcher.
"China has been the relative winner," he said. The country added six billionaires to the top 100 list, while India lost three and the US lost two. He said that the Hurun Report had 2,816 known billionaires before the Covid-19 pandemic, but that number had dropped by 20 per cent, as tanking stock markets wiped out net worth estimations.
More in the South China Morning Post.
Rupert Hoogewerf is a speaker at the China Speakers Bureau. Do you need him at your meeting or conference? Do get in touch or fill in our speakers' request form.
Are you looking for more experts on the coronavirus fallout? Do check out this list.
At the China Speakers Bureau we are exploring different video conferencing systems, in case live meeting might be banned longer than expected. Do join our experiments here.
Please follow and like us: