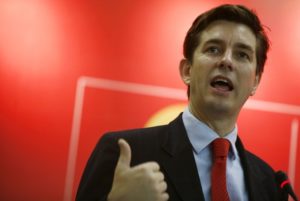 Zhong Shanshan, the owner of bottled water producer Nongfu became through its IPO suddenly one of the wealthiest people in China, in a time when IT in a post-COVID economy seems to be leading, says Rupert Hoogewerf, chairman of Hurun, the China Rich List to the China Daily. Consumption tycoons have become the winners in post-COVID China, he adds.
The China Daily:
Zhong, the 66-year-old former journalist-turned-health product entrepreneur, owns 84.4 percent of Nongfu's shares. The share surge pushed his fortune to more than $57 billion, calculated as per Nongfu's opening price on Tuesday. At one point, Zhong's wealth even overtook that of Jack Ma's $51.4 billion and Pony Ma's $56.7 billion, before falling.

Beijing Wantai Biological Pharmacy, in which Zhong is the biggest shareholder, is one of the leading manufacturers of infectious disease diagnostics and has been traded on the Shanghai Stock Exchange since early this year.

Rupert Hoogewerf, chairman and chief researcher of Hurun Report, said Zhong is the 17th Chinese businessman to take the No 1 position in terms of wealth during the last two decades. He is also a good example of the dynamism of the Chinese economy, he said.

"Who would have thought that Zhong, a man who sells bottled water, in the age of IT and post-COVID economy, could actually become the richest man in China overtaking Jack Ma and Pony Ma," said Hoogewerf.

"Zhong is pretty special. He has built two businesses, both of which have valuations of over $10 billion. Very few people in China have managed to build two $10 billion businesses from scratch."

Hoogewerf said after the epidemic, the global economy has suffered significantly, with China being the sole exception. "In China, many consumer tycoons have not just grown but flourished in the past six months possibly because a lot of investors looked for relatively safe havens. Traditional leaders in the consumer sector were able to give investors that reassurance," he said.
Rupert Hoogewerf is a speaker at the China Speakers Bureau. Do you need him at your meeting or conference? Do get in touch or fill in our speakers' request form.
At the China Speakers Bureau, we start to organize online seminars. Are you interested in our plans? Do get in touch.
Are you looking for more experts on consumption at the China Speakers Bureau? Do check out this list.
Please follow and like us: