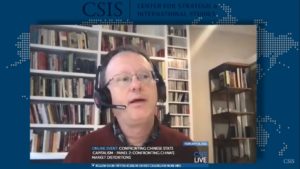 Leading economist Arthur Kroeber sees state capitalism in China not collapsing and certainly not going downhill as Japan's economy did in the past. He addresses a panel at CSIS Online on how the world can face the second-largest economy.
Arthur Kroeber is a speaker at the China Speakers Bureau. Do you need him on your (online) meeting or conference? Do get in touch or fill in our speakers' request form.
Are you looking for more strategic experts on the China Speakers Bureau? Do check out this list.
Please follow and like us: