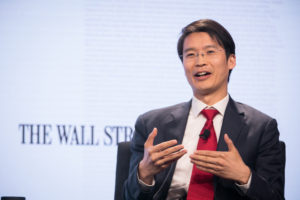 Traditionally conservative sovereign wealth funds are a wrongfully ignored player at developing the digital economy, says financial analyst Winston Ma, author of The Digital War: How China's Tech Power Shapes the Future of AI, Blockchain and Cyberspace, at the Investment Magazine.
The Investment Magazine:
Fuelled by a desire to keep up with the US and China, traditionally passive sovereign wealth funds are increasingly deploying capital into strategic development areas like infrastructure, communications and more recently the digital economy according to global investment manager and academic Winston Ma.

No longer mere "stabilizers of capital markets", the sovereign wealth funds of the world – which control around US$30 trillion in funds – are building internal teams and becoming more "active and direct" in their investment style, Ma explained on a recent Investment Magazine Market Narratives podcast.

Part of the reason is to save money, he said, by eschewing external management teams.

A larger purpose, however, is because these funds serve as domestic economic promotion agencies that drive strategic development agendas linked to sectors like infrastructure, telecommunications and increasingly, the digital economy.

"All countries are looking to sovereign funds as a policy tool to promote domestic research and development in order to stay as a relevant information centre besides China and the US," Ma explained. "For Europe, Japan and places like India they need to think about how they can stay competitive in these digital revolution competitions."

Many countries and regions are now setting up specific sovereign wealth funds tied to singular strategic objectives, he explained. The EU is looking to set up a €100 billion to finance European tech "champions" competing with alibaba and facebook, for example, while Japan is reported to have set up a 6G research fund, Ma said.

"That's not a typo," he added. "They're already thinking ahead. If they're late to the 5G competition they want to get ahead on the 6G."
More at the Investment Magazine.
Winston Wenyan Ma is a speaker at the China Speakers Bureau. Do you need him at your (online) meeting or conference? Do get in touch or fill in our speakers' request form.
Are you looking for more fintech experts at the China Speakers Bureau? Do check out this list.
Please follow and like us: