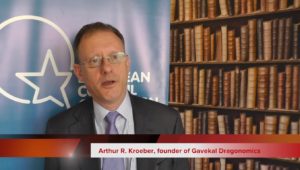 Arthur Kroeber
Managing Director and Head of Research, GaveKal Dragonomics, Senior Fellow, Foreign Policy, Brookings-Tsinghua Center
Travels from: Beijing
Arthur Kroeber is a respected writer and commentator on the Chinese economy and Chinese companies. He has been the managing director and head of research at Dragonomics since 2002.
In 2016 he published his much-quoted book China's Economy: What Everyone Needs to Know®.
He began working in Asia in 1987 as a journalist specializing in economic affairs and has reported from China, India, and several other Asian countries. From 1992 to 2002 he was a correspondent of the Economist Intelligence Unit covering China and South Asia and was the author of numerous research reports on China and India.
Mr Kroeber is a regular contributor to the opinion page of the Financial Times and a consultant to Oxford Analytica. His articles have also appeared in the Economist, the Far Eastern Economic Review, Wired, and other publications.
Mr. Kroeber graduated from Harvard University and had been working as a financial reporter for years.
Get in touch with us to check the availability of this speaker
Arthur Kroeber takes apart three schools of economists who have a gloomy view on China's economy.
Please follow and like us: