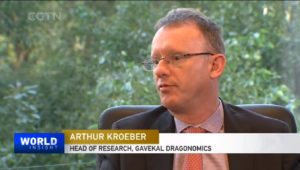 The Trump team has started trade talks in Beijing, but it is very unlikely they will get anywhere, says economist Arthur Kroeber, author of China's Economy: What Everyone Needs to Know®, in CBS. The internal divisions in the US team are only a part of the problems to gain ground, he says.
CBS:
The talks are unlikely to accomplish much, noted Arthur Kroeber, head of research for Gavekal Research. The American "coalition of trade warriors and national security hawks" agree that China poses a threat to U.S. dominance, yet they haven't formed a "coherent strategy," he said in a research note.

"Above all, the professionals are hamstrung by President Donald Trump, who absurdly insists that the main goal should be a US$100 billion reduction in the bilateral trade deficit," he said.

He added, "The team-of-rivals delegation brings differing objectives to Beijing. Mnuchin would probably like to cut a deal on tariffs and deficit reduction and focus on improving market access for US firms in the lucrative China market."
Arthur Kroeber is a speaker at the China Speakers Bureau. Do you need him at your meeting or conference? Do get in touch or fill in our speakers' request form.
Are you looking for more experts on the ongoing trade war at the China Speakers Bureau? Do check out this list.
Please follow and like us: