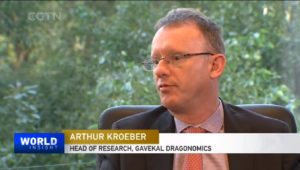 The new trade agreement between the US, Mexico, and Canada (USMCA)  excluded possible free-trade agreements between the three with China. Trump has its hands free to focus his trade war on China, says economist Arthur Kroeber, author of China's Economy: What Everyone Needs to Know®, at the South China Morning Post. 
The South China Morning Post:
After US-imposed tariffs on an additional US$200 billion worth of Chinese products last month and China's subsequent rejection of a US invitation to hold talks to ease the dispute, Chinese President Xi Jinping toured his country's northern rust-belt region, sending a message that China would have to rely on itself for future development.

Arthur Kroeber, research head and co-founder of the economic consulting firm Gavekal Dragonomics, wrote in a note on Tuesday that the USMCA may put an end to Trump's trade position of "picking fights with anyone and everyone". Washington, he said, would focus its fire on the nation it perceives as the real trade enemy: China.

"The US has confined its economic warfare to a single battlefield, but the fight will be a long one," Kroeber said.
More at the South China Morning Post.
Arthur Kroeber is a speaker at the China Speakers Bureau. Do you need him at your meeting or conference? Do get in touch or fill in our speakers' request form.
Are you looking for more experts on the trade war between China and the US? Do check out this list.
Please follow and like us: