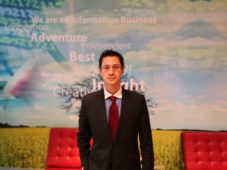 Videos of 5-star hotels in China showed unhygienic practices and went viral last week. But business analyst Shaun Rein, author of The War for China's Wallet: Profiting from the New World Order, did not see anything new here, apart from the Western media picking up the upheaval this time, he tells at the Bangkok Post.
The Bangkok Post:
State broadcaster CCTV aired video of uniformed inspectors at an unidentified hotel flashing their ID cards and holding a drinking glass up to the light to inspect it.

Hidden-camera videos of housekeeping staff behaving badly at Chinese luxury hotels surface on social media every six months or so, according to Shaun Rein, founder of China Market Research Group in Shanghai. Worker shortages and low pay make it hard for hotels to pressure employees to follow the rules, as they can just quit and find jobs elsewhere.

"They don't get very good workers and people don't stay very long," Rein said. "I shudder to think what the three-star hotels are like."
Shaun Rein is a speaker at the China Speakers Bureau. Do you need him at your meeting or conference? Do get in touch or fill in our speakers' request form.
Are you looking for more stories by Shaun Rein? Do check out this list.
Please follow and like us: