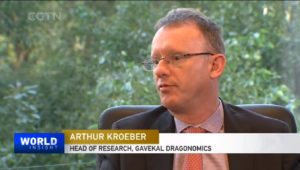 After decades of promises for China's economic and financial opening up, foreign companies have been careful before they start cheering. But veteran economist Arthur Kroeber, author of China's Economy: What Everyone Needs to Know®, optimistic about the latest changes, he tells in an interview for the China Daily.
The China Daily:
China's decision to ease market access for foreign companies and expand imports will not only provide a boost to foreign businesses but also benefit domestic companies through competitive pressure, according to a senior US researcher of the Chinese economy.

Arthur Kroeber, founder of the China-focused Gavekal Dragonomics research service, said in an interview that foreign businesses had already felt the benefits from China's new round of measures to expand opening-up by gaining greater market access.

He gave the example of Exxon-Mobil and BASF establishing wholly owned petrochemical ventures in southern China's Guangdong province, and the relaxation of equity caps in the automotive sector.

"In the financial sector, where there are going to be quite substantial market openings, companies from the United States, Europe and elsewhere will benefit."

Kroeber, who is also a senior nonresident fellow of the Brookings-Tsinghua Center in Beijing and the author of China's Economy: What Everyone Needs to Know, contended that individual Chinese companies will also be able to improve themselves through competitive pressure.

"Particularly in the financial sector, I think the increased competition will be beneficial for the Chinese economy as a whole," he said…

As China tries to become a more innovative economy, there is a need for increased competition and stronger IPR protection, he said.

Kroeber also hailed the measures to cut corporate taxes and fees by 2 trillion yuan ($300 billion) which were unveiled by the Chinese leadership in March.

"The tax cuts will be beneficial in a longer term time horizon, regardless of the impact that the tax cuts have in this particular economic cycle.

"I think the signaling by the government is that, in the future, they will rely more on tax policy as a mechanism for macro economic adjustment."

He said that this would be "very beneficial" as the tendency in the past had been to rely on infrastructure and property stimulus to support the economy when times were tough, "and that just is not an appropriate tool anymore".

Kroeber also highlighted the role of innovation in driving future economic growth. "If China wants to maintain high-speed economic growth, it needs to shift away from a capital intensive form of growth to one that is more focused on productivity growth and innovation."
Arthur Kroeber is a speaker at the China Speakers Bureau. Do you need him at your meeting or conference? Do get in touch or fill in our speakers' request form.
Are you looking for more strategic experts at the China Speakers Bureau? Do check out this list.
Please follow and like us: