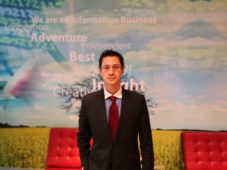 China's consumers used to pay a premium to foreign products, because of the presumed quality and status connected to it. But those easy days for foreign brands are over, says business analyst Shaun Rein at the City Wireselect.
City Wireselect:
In his address, Rein, who focused on the real winner from the trade war between China and the US, also looked at the themes that are underpinning Chinese consumer growth at present.

Drawing from his book The War for China's Wallet, Shanghai-based Rein said that there is still an ardent belief in the West that Chinese consumers want expensive foreign items.

'The middle class story is changing,' he said. 'They are willing to trade down. Where they would have spent the equivalent of $5 on a Starbucks, they are now spending $2 on Luckin Coffee. Rather than spending large sums on a Coach handbag, they are now more willing to buy a no-name brand from a Chinese producer

'The main theme for 2019 is that the Chinese middle class is trading down. You need to position for the companies that will benefit and also avoid those that are going to be taken away from. Consumer confidence is low, that is a factor, but they are also talking more about value.'

Rein tied the change to other factors in daily Chinese life. He said the so-called 'China Dream', of becoming hugely affluent as the country grows, is receding, which is also affecting spending habits.

'The China Dream is changing. At one point, it was about buying foreign goods to show your prowess. In 2011, we did research where we looked at 5,000 Chinese people's habits, and 85% said they would always buy foreign brands.

'We redid the study in 2016 and 60% said they would by Chinese goods over foreign. We haven't done it since but the trend is only one way. Chinese consumers no longer want a Kit Kat or Nestlé, they want Chinese brands. They are viewed as equally as good but with more attractive price points.'
Shaun Rein is a speaker at the China Speakers Bureau. Do you need him at your meeting or conference? Do get in touch or fill in our speakers' request form.
Are you looking for more consumer experts at the China Speakers Bureau? Do check out this list.
Please follow and like us: