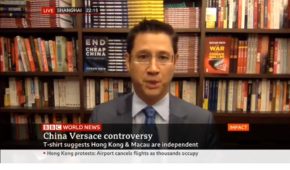 Business analyst Shaun Rein has always been a China-bull, but even he is now advising to put China investments on hold, he tells in the Press Democrat, after Houston Rockets General Manager Daryl Morey was the latest to get into hot air.
Press Democrat:
With the politically charged trade war with the United States grinding on and the Chinese economy cooling off, the latest NBA controversy was a reminder that many foreign executives say the country of 400 million middle-class consumers is more a minefield than a gold mine.

"The political risk is so high right now it doesn't make sense to keep investing in China. If you're not already here, you have to think three, four, five times harder about whether it's worth coming," said Shaun Rein, the Shanghai-based founder of the China Market Research Group who has advised clients such as Apple, Samsung, Fidelity Investments and luxury group Richemont.

Rein, an author known in China for his pro-Beijing views and support for hard-line President Xi Jinping, said the political atmosphere had become so charged that even he is advising companies to leave. "It's killing my business, frankly," he said, "but you can't put all your eggs in this basket anymore."
Shaun Rein is a speaker at the China Speakers Bureau. Do you need him at your meeting or conference? Do get in touch or fill in our speakers' request form.
Are you looking for more experts on the ongoing trade war between China and the US? Do check out this list.
Please follow and like us: