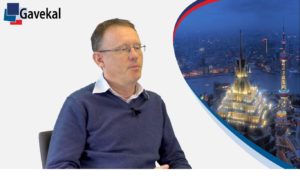 After a first symbolic truce, the world should brace for the next phase in the trade war between China and the US, warns leading economist Arthur Kroeber, according to Barron's. China has stalled its economic reforms and mechanisms to contain the US power fail, and the technology war is likely to resume, he stresses.
Barron's:
What may be a tactical positive for markets and the global economy is viewed as a strategic negative by those who look at the deal through a longer-term policy lens. "The agreement falls far short of achieving the U.S. goal of forcing China to change its state-led economic system," writes Arthur Kroeber, founding partner of China research firm Gavekal Dragonomics,in a note to clients. "Instead, it cements a pattern of managed trade reminiscent of Japan's 'voluntary' export restraints in the late 1980s. And it will do nothing to stop further escalation of the two countries' technology war."…

The U.S.-China technology war is also likely to escalate, playing out over emerging technologies like 5G. Kroeber says the U.S. is upping pressure on European allies to rethink using gear from China's Huawei Technologies in their 5G networks. Norway's telecom utility decided to use Huawei rivals, and German legislators are pushing back against chancellor Angela Merkel's efforts to keep buying Huawei gear. More Chinese companies could also end up on the U.S. export-control or sanctions blacklists—all of which will push China to further re-energize its investments to reduce its dependence on U.S. suppliers, he adds.

And don't count out another tariff war emerging after the election. With the Trump administration's efforts to debilitate the World Trade Organization's dispute resolution mechanism, Kroeber says there is no effective check on the U.S. ability to engage in unilateral trade actions like tariffs, especially after the election. Kroeber is also skeptical about China's purchase commitments, adding that it is hard to see how these targets can be met in the real world. That suggests tariff wars could resume in 2021 if the targets aren't met.
Arthur Kroeber is a speaker at the China Speakers Bureau. Do you need him at your meeting or conference? Do get in touch or fill in our speakers' request form.
Are you looking for more experts on the ongoing trade war between China and the US? Do check out this list.
Please follow and like us: