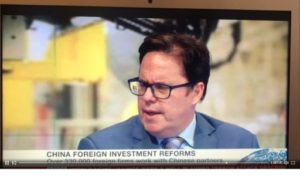 Every crisis offers an opportunity and China is pushing ahead with its plans to develop autonomous vehicles, as the car market is in the doldrums. China lawyer Mark Schaub summarizes the effect of the country's plans for the future at the China Law Insight.
Mark Schaub:
The world's auto market is in the doldrums and China, as the world's largest auto market, has suffered almost two-years of starkly declining sales and now the novel coronavirus (COVID-19) epidemic has crashed the already anemic sales.

The automotive sector has been heading for disruption for some time now. The virus outbreak may have pushed matters further. China signaled its intention to play a key role in the development of autonomous vehicles when on 24 February 2020 eleven central level Chinese governmental departments jointly issued the Strategy for Innovation and Development of Intelligent Vehicles (the "Strategy"). [1]

The Strategy sets forth a blueprint as to how the Chinese government will boost the development of autonomous vehicles over the next thirty years…

The Strategy has been warmly welcomed by the market in China.

The Strategy lays out a comprehensive and detailed plan for the development of autonomous vehicles in China. China clearly recognizes the advantages it has in data, market, technology innovation, infrastructure and environment to build an autonomous car manufacturing titan. The Strategy also recognizes and seeks to address some of China's disadvantages – restrictions on mapping and slow changes to relevant laws.

Black swan events are unforeseen and unexpected. An unexpected result of the virus outbreak is that the inevitable disruption and move to autonomous new energy cars will be sped up. An already weakened traditional auto sector may find it has no choice but move to new technologies.
More at the China Law Insight.
Mark Schaub is a speaker at the China Speakers Bureau. Do you need him at your meeting or conference? Do get in touch or fill in our speakers' request form.
Are you looking for more strategic experts at the China Speakers Bureau? Do check out this list.
Is the coronavirus disrupting your China meeting? Do check out if the China Speakers Bureau can help you.
At the China Speakers Bureau we have started to explore WeChat Work as a social platform, next to Twitter, Facebook and LinkedIn. Are you interesting in following us on this journey? Check out our instructions here.
Please follow and like us: