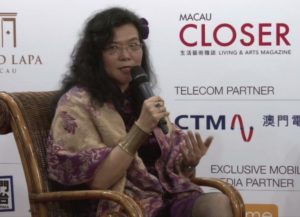 Nationalistic sentiments at the recent National People's Congress (NPC) triggered off proposals to abolish English translations on all government-related events in China. London-based author Zhang Lijia explains why that is the wrong move, and why learning English is still important, also for Chinese, at the South China Morning Post.
Zhang Lijia:
I am all for the promotion of Chinese culture and language, but I don't understand why it can't go hand in hand with learning English. Yet, I am not surprised by these proposals.
Last March, a heated debate about the relevance of English erupted after Hua Qianfang, a farmer turned writer, posted on Weibo that English is useless to most Chinese people and has

I must beg to differ with Mr Hua and the two delegates…
For me, learning English has been life-changing. Born into a poor working-class family in Nanjing, I dreamt of becoming a writer. Sadly, when I turned 16, I was dragged out of school and put to work at a military factory that produced intercontinental missiles. There, I greased machine parts for a whole decade. As an escape route, I decided to teach myself English.

It was the early '80s. "English fever" was just heating up after China began to reform and open up. Chinese people had a thirst for learning and the country needed the skills. It was much harder to teach oneself English back then. I borrowed a radio to follow a popular programme called New Concept English…
China's rapid rise has unnerved the West and led to fear. The Covid-19 outbreak has only

aggravated

such fear. While some misgivings are justified, others are generated by ignorance. It is time for China to behave graciously and open up more channels for cultural understanding.
In today's globalised world, a knowledge of languages is paramount in facilitating communication. One of my self-appointed missions in life is to serve as a cultural bridge between China and the outside world, in my small way, of course, explaining where China is coming from and why certain events happened. Any bicultural person can be such a bridge. We need more of them, not fewer.
More at the South China Morning Post.
Zhang Lijia is a speaker at the China Speakers Bureau. Do you need her at your (online) meeting or conference? Do get in touch or fill in our speakers' request form.
Are you looking for more political experts at the China Speakers Bureau? Do check out this list.
Please follow and like us: