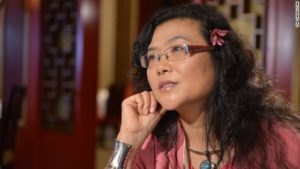 A Hunan reality TV show Sisters who make waves triggers off a heated debate in China on whether the TV show adds to the feminist debate or not. Author Zhang Lijia collects the arguments pro and con, and in the end concluded that the commercial show is making quite some feminist waves, she writes in the South China Morning Post.
Zhang Lijia:
It is quite a show, I have to admit, eye-catching and lavishly made. Genre-bending, it presents not only the singing competitions but also the whole process of the performers getting ready, socialising, joking and laughing with each other, interspersed with interviews throughout.
Sadly, despite its "girl power" trappings, the show is not about empowerment but about cheap thrills. Obsessed with beauty, it overemphasises the appearance of the contestants, their shapely bodies, smooth skin, youthful looks and fabulous costumes…
Renowned feminist Zhang Leilei told me that although the show does not qualify as feminist, it does promote the diversity of women and places a spotlight on the talents and capacities of women over 30.
I tend to agree with her: it is a good thing that the show is being screened. Due to restrictions by the authorities, feminist discourse lags behind the rest of the world. This show does not make big waves in this regard, but even a few ripples are better than nothing.
More at the South China Morning Post.
Zhang Lijia is a speaker at the China Speakers Bureau. Do you need her at your (online) meeting or conference? Do get in touch or fill in our speakers' request form.
Are you looking for more experts on cultural change at the China Speakers Bureau? Do check out this list.
At the China Speakers Bureau, we start to organize online seminars. Are you interested in our plans? Do get in touch.
Please follow and like us: