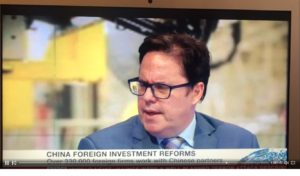 China has adopted new regulations for cosmetics manufacturers allowing more access to the China market, although the changes are not only positive, writes China-lawyer Mark Schaub at the China Law Insight.
Mark Schaub:
The cosmetics market in China is growing bigger each year. Data from China's National Bureau of Statistics suggests total retail sales of cosmetics in China in 2019 exceeded RMB 299 billion and a year-on-year growth was almost 13%, which means that retail sales increased by approximately 40 billion over the year.[1] The size and growth of the Chinese cosmetics market has not gone unnoticed by the authorities. There is a significant increase in cosmetic product offerings and competition. To address issues such as product safety and quality, the PRC authorities finally passed new regulations to better regulate the cosmetics industry…

The New Regulation is passed in a similar form to the Second Draft with minor changes. For overseas cosmetics manufacturers, the New Regulation provides more market access; less red tape and more certainty. On the negative side, the New Regulation will increase obligations and expands the types of measures the Chinese authorities can take. However, none of the measures are highly surprising and the triggers for taking action are also reasonable. Few international manufacturers are likely to be anxious about such measures. It would be wise for overseas manufacturers to monitor the implementation of the New Regulation as they will not bring just increased levels of responsibilities but very welcome market access and clarity.
More details at the China Law Insight.
Mark Schaub is a speaker at the China Speakers Bureau. Do you need him at your (online) meeting or conference? Do get in touch or fill in our speakers' request form.
At the China Speakers Bureau, we start to organize online seminars. Are you interested in our plans? Do get in touch.
Are you looking for more experts on managing your China risk? Do check out this list.
Please follow and like us: