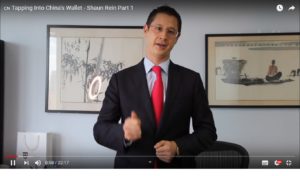 Having a strong digital strategy has put Burberry ahead of luxury competitors even before the coronavirus crisis hit the purchasing behavior of China's consumers, says business analyst Shaun Rein to the BBC.
The BBC:
Retail analysts praised Burberry for the hybrid store which combines online shopping with traditional bricks-and-mortar retailing.

"Burberry has been savvy and ahead of the curve in understanding the importance of social media and e-commerce in targeting Chinese consumers," said Shaun Rein, founder of the China Market Research Group.

"Too many luxury brands focus on bricks and mortar and the in-store experience only while Chinese want to shop online."

Luxury brands have been selling strongly in China as residents can't travel overseas on expensive foreign shopping sprees due to coronavirus travel restrictions.
Shaun Rein is a speaker at the China Speakers Bureau. Do you need him at your (online) meeting or conference? Do get in touch or fill in our speakers' request form.
Are you looking for more e-commerce experts at the China Speakers Bureau? Do check out this list
At the China Speakers Bureau, we start to organize online seminars. Are you interested in our plans? Do get in touch.
Please follow and like us: