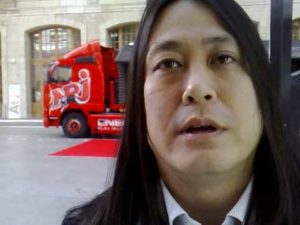 Donald Trump's plan to ban Tiktok from the US is straight-up Sinophobia, says former Baidu communications director Kaiser Kuo to Slate. Most successful apps in China will not make a decent following among consumers in the rest of the world, he argues, just because they are too much adjusted to China's internet rules and customs, he adds.
Slate:
Kaiser Kuo, a Chinese American tech journalist and podcaster, and former spokesperson for the Chinese search engine Baidu, agrees that TikTok's data collection has been aggressive but feels surveillance fears are overblown. "We have not seen any evidence so far that they've done anything nefarious. This is about our deeply emotional response to China. It's straight-up Sinophobia," he said in an interview prior to Trump's ban threat. "If TikTok, which is just pure greasy kids' stuff, is drawing so much fire, it's hard to believe that anything wouldn't."

It's also not clear that China really wants to develop globally successful consumer tech products. Kuo notes that TikTok's success is something of an anomaly, since "the really successful apps in China, the very things that made them successful would hinder them from success in other markets." Baidu, for instance, may be an excellent search engine but its compliance with Chinese censorship laws makes it difficult to export. The messaging service WeChat is an all-in-one swiss army knife app for its Chinese users, facilitating everything from payment to ridesharing to food ordering. Given its ubiquity, it's also a powerful tool for surveillance and censorship, which is why the international edition is so pared down that it's essentially a WhatsApp knock-off. TikTok's domestic Chinese counterpart, Douyin, also boasts some micropayment and search features—in addition to censorship compliance—that are absent from the global version.
Kaiser Kuo is a speaker at the China Speakers Bureau. Do you need him at your (online) meeting or conference? Do get in touch or fill in our speakers' request form.
At the China Speakers Bureau, we start to organize online seminars. Are you interested in our plans? Do get in touch.
Are you looking for more internet experts at the China Speakers Bureau? Do check out this list.
Please follow and like us: