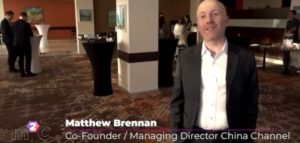 Douyin – the Chinese name of Tiktok – became a runaway success as a short-video platform in China. Tech watcher Matthew Brennan looks in his book 'Attention Factory: The Story of TikTok and China's ByteDance' at the playbook Bytedance used for their lift-off before they took the platform global. An excerpt from Techcrunch.
Matthew Brennan:
Hundreds of fashionably dressed young people were arriving at 751 D.PARK, an expanse of industrial plants redeveloped into a hip culture venue in northeast Beijing. They were clad in baseball caps, brightly colored dresses, loose-fitting hip-hop style streetwear and limited-edition sneakers. The site had been transformed into something akin to the stage of the talent competition "American Idol," spanning two floors filled with strobe lighting, high-volume music and trendy backdrops. This was an exclusive party — three hundred top Douyin creators coming together to celebrate the app's one-year anniversary.

The online stars, billed as the "new generation of internet celebrities," weren't there to just socialize and enjoy themselves. Every influencer was aware of the unspoken competition to derive the best content from that night. They were all fighting to achieve a higher level of superstardom and the medium of battle was short video.

The influencers who knew each other gathered in small groups as their assistants tirelessly captured fifteen-second videos of their carefully crafted skits. Loners roamed around the dance floor, absorbed in finding the ideal lighting for their lip-syncing selfie videos. Lesser-known influencers nervously approached more famous ones, proposing to record a dance together to potentially tap into their peers' following. Loud hip-hop music kept playing in the background as creators hurried to touch up the videos they had just shot. Once the editing was done, they uploaded their works and anxiously waited for the app's algorithms to judge who would grab more eyeballs.

Dance teams took to the stage to display their skills. The crowd bopped their heads back and forth as rappers attempted to impress with clever lyrics. Later as the hosts were midway through giving out awards, a wave of noise erupted from the back of the crowd interrupting the proceedings.

It was Yiming. Dressed in a black baseball cap and gray T-shirt and accompanied by Lidong. The audience went wild — the CEO had decided to drop in unannounced! Immediately he was bombarded with requests to take pictures and videos. As those around him whooped and cried out wildly, the entrepreneur simply smiled and kept his hands calmly by his side, an awkward 34-year-old engineer type among the hyper fashionable, mostly teenage hip-hop crowd.

He already knew from looking at the data, but this was confirmation in the flesh — Douyin had built a robust community, with powerful momentum and was on the verge of doing something special.

October 1st marks the beginning of "Golden Week," a seven-day-long official Chinese national holiday. Periods like these are big opportunities for China's internet industry. People's behaviors change for a week; many find more time for entertainment and to try new things.

Over October, Douyin's daily users doubled from seven to 14 million; two months later, they reached 30 million. Over those three months, the 30-day retention rates jumped from eight to over 20%, the average time spent in the app soared from 20 to 40 minutes. It was as if some magic rocket fuel had suddenly been added, boosting every key metric. What had changed?

The answer was Zhu Wenjia. Zhu Wenjia, hired from Baidu in 2015, was widely considered to be one of the top-three best people in the entire company when it came to algorithm technology. He ran one of ByteDance's most capable engineering teams and had recently been assigned to work on Douyin. The team's work harnessing the full power of ByteDance's content recommendation back end led directly to the astounding October results.
Matthew Brennan is a speaker at the China Speakers  Bureau. Do you need him at your (online) meeting or conference? Do get in touch or fill in our speakers' request form.
Are you looking for more experts on e-commerce at the China Speakers Bureau? Do check out this list.
Please follow and like us: