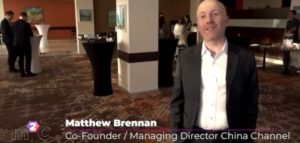 Fashion firm Shein developed a new global position, managing through domestic regulatory difficulties and tense relations between China and the US. Internet watcher Matthew Brennan looks at CNN Business how a new kid at the block is faring and looks in many ways like the successful Tiktok.
CNN Business:
Shein positions itself firmly as a global business, with an emphasis on distribution: It ships to more than 220 countries or territories. Its website has no mention of its backstory or even where it's based, stating only that it is "an international" firm. In recent months, that has led to some suggestions that the retailer deliberately downplays its Chinese roots amid rising biases and political controversy.

"Given the current climate of geopolitical tensions, it can … make sense for Chinese entities to lay low," said Matthew Brennan, who writes about Chinese mobile technology and is the founder of research firm China Channel. "They just want to do business. This is something that they don't want to have to deal with. And so I don't think we can blame Shein for taking that option."…

Shein has made a name for itself by blitzing social media users with its affordable and trendy clothing catering to young women, including $6 crop tops and $9 minidresses. Similar to Boohoo and ASOS, the company relies heavily on influencer marketing, teaming up with internet stars and celebrities like Katy Perry and Nick Jonas to expand its reach.

The brand is especially popular with Gen Z shoppers on TikTok, where it has become a trend for users to post $1,000 Shein "hauls," or large purchases. That kind of buzz comes on top of Shein's affiliate marketing programs, which reward influencers handsomely for spreading the word about its products.

The company is also savvy about keeping users on its platform. Last September, it held a virtual fashion show exclusively on its app, which likely helped it pick up more users, noted Lexi Sydow, head of marketing insights at App Annie. Grammy-nominated singer Ellie Goulding was among the performers.

"They're just so far ahead in terms of user experience," said Brennan. "They mix together media and entertainment into the experience, and user-generated content and reviews."

One of its key differentiators, however, is a concept that analysts are calling "real-time retail."

They say that Shein has come up with an in-house algorithm that trawls the web — including its own massive customer database — to find out what fashion items are trending on search, and what people are responding to on competitors' websites…

Shein concentrates on exports, naming Europe, the United States, Australia and the Middle East as key markets. Shein does not publicly break down what its top markets are.

It has recently also seen momentum in Latin America, with app downloads in Brazil skyrocketing 988% in the 12 months to June, compared to the previous year, according to App Annie.

The brand also remains a fan favorite in India, although its platform was booted out of the country last summer amid a crackdown on dozens of apps. Last month, it returned to India through Amazon's Prime Day shopping festival, leading to excitement among customers.

In some ways, Shein's rise could be compared to that of TikTok, according to Brennan, who authored the book "Attention Factory: The Story of TikTok and China's ByteDance."

"I see so many similarities," he said, reflecting on how the short video app was regarded before it became a global sensation.

"It was viewed as something that was just for Gen Z. It was sort of viewed as frivolous entertainment … I think the competitors were looking at it similarly, and not taking it as seriously as they should have. And I'm sure that platforms like YouTube and Instagram much regret that now."
Matthew Brennan is a speaker at the China Speakers Bureau. Do you need him at your (online) meeting or conference? Do get in touch or fill in our speakers' request form.
Are you looking for more experts on China's digital transformation at the China Speakers Bureau? Do check out this list.
Please follow and like us: