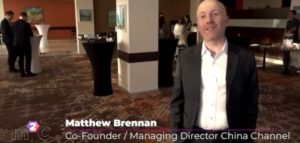 Growing and making profits on the internet has been relatively easy for China's tech firms when the industry took off, says veteran Internet watcher Matthew Brennan to the state-owned CGTN. But those easy gains are over now the government stepped in to regulate the industry and massive growth is harder to get, he adds.
CGTN:
In mid-2016, word started to go around that the Chinese internet had started to enter the "second half of the game." The number of internet users in China exceeded 1 billion by June this year, making it the country with the largest internet user base in the world. But the rate of growth is slowing, from a 20-percent year-on-year growth rate before 2011 to single-digit growth in recent years.

"The bonus period of consumer internet is now fully over," said Matthew Brennan, a China-based technology analyst. "The lower-hanging fruits are gone, and the growth opportunities are either going international or going into lower-tier cities."…

"Before, it was very wild in terms of how those companies operated," said Brennan. "Now it's a matter of restoring orders."…
Attempts to develop the industrial internet also surfaced, with a series of policies introduced to use technology to transform China's industrial base. In November 2017, China's State Council issued a guideline on deepening the "internet plus" advanced manufacturing to develop the industrial internet.

Given that China is moving up the value chain, there is a strong emphasis on manufacturing from the government's perspective, said Brennan. "China has a considerable advantage in manufacturing, having been the world factory for many decades now. Keeping that advantage makes a lot of sense."
Matthew Brennan is a speaker at the China Speakers Bureau. Do you need him at your (online) meeting or conference? Do get in touch or fill in our speakers request form.
Are you looking for more experts on China's digital transformation at the China Speakers Bureau? Do check out this list.
Please follow and like us: