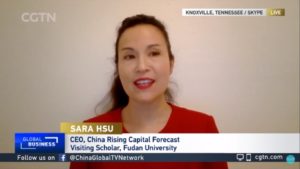 The fall down of Evergrande, China's second largest real estate giant, has rattled global investors. Strategic analyst Sara Hsu expects its fallout will be huge in China, but its effect outside China is only marginal, she tells at NBC.
NBC:
The property sector has been central to China's explosive growth in recent years, accounting for an estimated quarter of the GDP in a country in which high-saving households have few other safe places to invest — almost 70 percent of the Chinese household wealth is held in real estate.

But developers like Evergrande — confident that Beijing would prop them up if necessary — have become overextended, raising funds to cover current debt obligations in a "Ponzi-like manner," Sara Hsu, a U.S.-based visiting scholar at China's Fudan University who specializes in Chinese economic development, said in an email.

Evergrande has been trying to cut its debt for several years, and Chinese officials have long had their eye on it as a potential systemic risk. The company narrowly avoided a $13 billion cash crunch last year. This month, it again warned of a default as it scrambles to raise the money it needs to pay lenders and suppliers…

Hsu also said that while Evergrande is likely to default on its offshore bonds in the coming weeks, the impact on the U.S. economy would be minimal.
Sara Hsu is a speaker at the China Speakers Bureau. Do you need her at your (online) meeting or conference? Do get in touch or fill in our speakers' request form.
Are you looking for more strategic experts at the China Speakers Bureau? Do check out this list.
Please follow and like us: