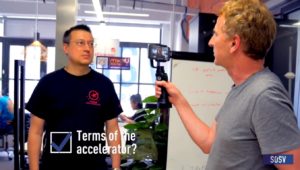 Most internet startups are at the mercy of Facebook, Google, and in China Tencent or Alibaba to get a launching platform. William Bao Bean, managing director of Shanghai-based SOsV, co-founded the Mobile Only Accelerator MOX, an independent platform offering not only capital but also an audience to launch, he explains in the News Lens.
The News Lens:
MOX member companies can tap support that includes financing from SOSV, the US$300 million VC fund that oversees MOX, and access to audience that sidesteps the life-sapping expenses involved in acquiring users through Facebook and Google. Founding teams can also tap the advice and knowhow of 270 global mentors.

MOX founder William Bao Bean summed it up: "It doesn't matter how good your app is – no one will ever see your app or platform unless you pay Google, Facebook or a bunch of Chinese guys [Alibaba, Tencent, etc.]. They charge 20 to 30 cents per app launch, and it's impossible to make that back in emerging markets."

SOSV is regularly ranked among the most active seed investors in the world by Crunchbase, the data-driven company analytics service, and 60 percent of the companies in MOX's previous three batches have either raised money or broken even (or both), with 30 percent closing or about to close US$1-3 million in the last year, according to Bao Bean.

In return for offering up a share of their revenue and equity, MOX companies are provided with up to 150,000 users to help localization and optimization as they enter each of the markets in MOX's coverage, which spans Southeast Asia, India, Eastern Europe and South America.
William Bao Bean is a speaker at the China Speakers Bureau. Do you need him at your meeting or conference? Do get in touch or fill in our speakers' request form.
Are you looking for more experts on innovation at the China Speakers Bureau? Do get check out this list.
Please follow and like us: