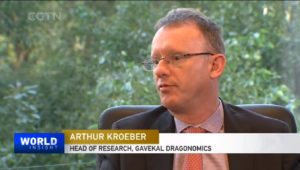 China has been checking its weaponry for the ongoing trade war and stopping the export of rare earths has been one of them. But China will have to be very selective in using this weapon, otherwise it might hurt itself more than the US, says economist Arthur Kroeber, according to CBS.
CBS:
If China does clamp down, they are likely to be selective in which elements to target because the country wants to be seen as playing by World Trade Organization rules, said Arthur Kroeber, head of research at Gavekal Economics and editor-in-chief of China Economic Quarterly, on a call with clients this week. China's goal is to paint the U.S. as a "lawless actor" that disrupts economic growth, he said.

"I really think that they have a problem [in] that none of the options are very good and all of them involve very significant costs to China," Kroeber said. "So if they're going to do any of them they have to do them extremely carefully, and I think quite selectively."
Arthur Kroeber is a speaker at the China Speakers Bureau. Do you need him at your meeting or conference? Do get in touch or fill in our speakers' request form.
Are you looking for more strategic experts at the China Speakers Bureau? Do check out this list.
Please follow and like us: