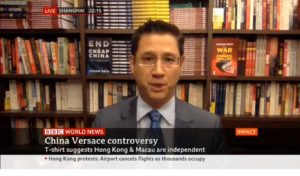 Getting into hot water with China's consumers, its government or both happens regularly to foreign brands. Business analyst Shaun Rein uses the latest NBA-upheaval to explain how those boycotts work, and how foreign brands can deal with them, according to the Marketplace.
The Marketplace:
China's nearly 1.4 billion consumers take issues about the country's territorial integrity seriously.

"They go back to what they consider humiliation during the Qing Dynasty," said Shaun Rein, author of the book, 'The War for China's Wallet.'

"They feel that the Western powers, led by the British, enslaved the Chinese to opium [and] destroyed the country's economy."…

Chinese firms suspended or cancelled sponsorship deals with the National Basketball Association last month after Houston Rockets' general manager, Daryl Morey, tweeted support for protesters in Hong Kong.

Ecommerce giants Alibaba, JD.com and Suning voluntarily removed Houston Rockets merchandise from their platforms.

"They're showing the government that they will support the motherland," Rein said.

There are some signs that NBA is on a slow route to recovery in China. While Chinese state broadcaster CCTV has not resumed airing NBA games, internet giant Tencent has — except for the ones involving the Rockets.

Rein, who is also founder of the China Market Research Group, suggested the best way for foreign brands to combat these boycotts and bans is to issue a sincere apology.

"What we tell our clients is stand up, apologize [and say] 'We are sorry. We respect China. We respect China's sovereignty issues,'" he said. "Then afterwards you can say pretty much anything, as long as you're showing respect to the Chinese people."

Rein said the NBA fell far short of that but, even so, that public anger appeared to have subsided after Chinese state media stopped covering the controversy.

There are times, however, when the central government, via the state press, whips up public anger.

In 2016, China felt threatened when South Korea signed a deal with the U.S. to deploy an American anti-ballistic missile shield called the Terminal High Altitude Area Defense (THAAD).

Rein said the government criticized South Korea in the Chinese state press.

"They basically said: 'How dare this little country install something that could be an offensive tool against us,'" he said.

Chinese consumers took the cue. They stopped buying Korean cars, cosmetics and snacks. South Korean supermarket chain Lotte, because it provided land for the South Korean military to build the THAAD system, was the hardest hit.
Shaun Rein is a speaker at the China Speakers Bureau. Do you need him at your meeting or conference? Do get in touch or fill in our speakers' request form.
Are you looking for more branding experts at the China Speakers Bureau? Do check out this list.
Please follow and like us: