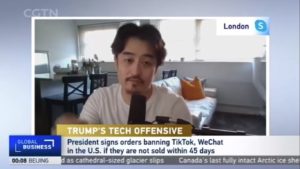 Bytedance is negotiating the sale of popular video streaming app Tiktok with Microsoft, now it became into hot water with an executive ban by US President Donald Trump. Business analyst Arnold Ma tells CGTN why that might be a good deal for Bytedance, since it has 60 apps in China, not just a few like most tech companies, and might focus on those other apps. Even the price, 10 billion US dollars for a company valued at 120 billion, is not bad for an app that only exists for three years, he adds.
Arnold Ma is a speaker at the China Speakers Bureau. Do you need him at your meeting or conference? Do get in touch or fill in our speakers' request form.
At the China Speakers Bureau, we start to organize online seminars. Are you interested in our plans? Do get in touch.
Are you looking for more innovation experts at the China Speakers Bureau? Do check out this list.
Please follow and like us: