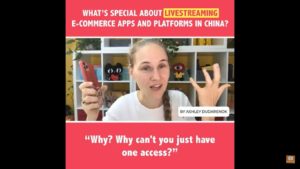 More than 50 platforms in China offer live streaming as a highly sophisticated tool, say innovation expert Ashley Dudarenok at her vlog. Compared to their counterparts in the West, live streaming in China offers a wide range of tools the reach out to their viewers.
Ashley Dudarenok is a speaker at the China Speakers Bureau. Do you need her at your (online) meeting or conference? Do get in touch or fill in our speakers' request form.
Are you looking for more innovation experts at the China Speakers Bureau? Do check out this list.
Please follow and like us: