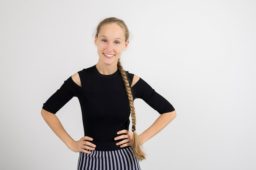 Ashley is a China marketing expert with two decades of professional experience in China. Ashley is fluent in Mandarin, Russian, German, and English.
She travels from Hong Kong.
Ashley Dudarenok is a Chinese serial entrepreneur, award-winning digital marketing professional and author. Recognized as a "guru on digital marketing and fast-evolving trends in China" by Thinkers50, Ashley is the founder of China-focused digital marketing agency Alarice (www.alarice.com.hk) and China digital consultancy ChoZan 超赞(www.chozan.co). 
She has a deep theoretical knowledge of China's digital landscape development and is immersed daily in the market, observing and applying what works for business.
Her expertise has been sought after and endorsed by China's tech giants, such as Alibaba, Jingdong, Pinduoduo, and others. Ashley Dudarenok is serving the world's most loved Fortune 500 brands, tech giants, and unicorns to gain a competitive advantage by applying tactics and strategies learned from the fast-moving, innovative China market.
Ashley helps create a bridge between China and the rest of the world. She is the author of 10 books on Digital China. 
Her top-rated YouTube vlog (https://www.youtube.com/c/AshleyDudarenok) covers the China market, consumers, future of retail and digital marketing.
Ashley is a regular media contributor and has been interviewed by the BBC, the SCMP, Forbes and Bloomberg among others. 
You can find out more about Ashley and her work at www.ashleydudarenok.com or via her LinkedIn profile (https://www.linkedin.com/in/ashleydudarenok/).
UPDATED THEMES:
Ashley delivers high impact, action oriented content for global businesses. Her most frequently requested themes and topics are as follows:
THEME 1: CUSTOMER CENTRICITY 
Modern Chinese consumers: what do they want and how to sell it to them

Building seamless consumer journey, implementing social+ models and effective CRM loyalty programs
What can we learn from China's top social media platforms: lessons to global marketers from WeChat, Weibo and Douyin
China's luxury boom and what the opportunities are there for brands
THEME 2: FUTURE OF RETAIL
What does the future of retail look like: New Retail ecosystems, virtual influencers and seamless OMO journey

How China's tech giants (Alibaba, Jingdong, Tencent) are shaping the future of global commerce
Live Streaming E-Commerce: how to start live-streaming for your brand and attract consumers based on China's examples
China's metawave and Web3 marketing: marketing and selling in the age of XR, metaverse and virtual humans
THEME 3: LEARN FROM CHINA
A look into the booming technology sector in China: retail tech, AI, VR, IoT and more

How Chinese tech ecosystems (Alibaba, Tencent, Meituan, Bytedance) are driving business transformation and what we can learn from them
How Chinese tech giants support the development of smart cities and village digitization, and what we can learn from it
China's Digital Transformation and business lessons to learn: leap over the competition by learning from the world's most competitive business market. China's living in the future, don't get left behind.
Ashley Dudarenok reintroduces herself at the at of Zero-Covid China at the beginning of 2023