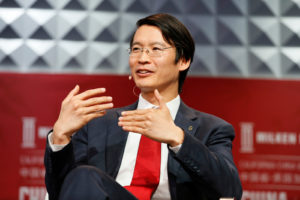 China is on track to launch its digital e-yuan currency ahead of the Beijing 2022 Winter Olympics, despite major shocks like the possible demise of financial giant Evergrande, says financial expert Winston Ma at The Street.
The Street:
On the regulatory front, Winston Ma, a former managing director and head of North America at China Investment Corp., said China seemed to be sticking to its original schedule to officially launch its digital currency (e-CNY) at the Beijing 2022 Winter Olympics."

"Since [the] People's Bank of China issued its digital currency white paper in July, China has accelerated the testing of e-CNY," said Ma., author of "The Digital War – How China's Tech Power Shapes the Future of AI, Blockchain and Cyberspace."

Chinese media reported last week that a PBoC team visited Beijing 2022 Winter Olympics sites to further test e-CNY ATM and mobile payments, in what's described by PBoC Vice Gov. Fan Yifei as the "final push," Ma said.

He added that the West finds hard to grasp the idea that China is many years ahead of the US and Europe in developing sovereign digital currencies.

Ma said that China's launch of e-CNY as government currency, together with El Salvador's adoption of bitcoin as legal tender, "will become important reference cases for all nations stepping into digital assets," Ma said.
Winston Ma is a financial expert at the China Speakers Bureau. Do you need him at your (online) meeting or conference? Do get in touch or fill in our speakers' request form.
Are you looking for more financial experts at the China Speakers Bureau? Do check out this list.
Please follow and like us: