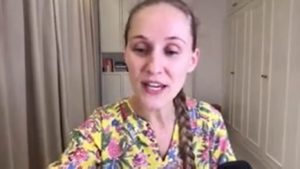 Health awareness has a profound influence on the requirements of consumers, and brands should pay notice, says marketing expert Ashley Dudarenok tells the Jing Daily."Women's athleisure needs to be both fashionable and professional," she says.
The Jing Daily:
Growing health awareness,government initiatives, and major sporting events such as the Olympics have also contributed to the desire for an active lifestyle. In April 2022, 67 million Chinese people were using fitness apps to work out at home.

"Driven by the fast-paced life, people desire to get rid of the shackles of stress and want to have a relaxed and dynamic living atmosphere," states Ashley Dudarenok, founder of Chinese marketing agency Chozan and Alarice. "Athleisure wear has become one of the fashion choices for young people because of its comfortable wear, both functional and casual, and can easily cope with multiple scenes in work and life."…

The booming sector indicates a lucrative opportunity for activewear, but brands need to be aware of women's diverse demand. "Women's athleisure needs to be both fashionable and professional," remarks Dudarenok. "Nearly 65 percent of female sports consumers prioritize the need for dressing. And functionality, design, and quality are also the main factors considered."..

Premium players are also foraying independently into elite sports. Given China's skiing boom, brands like Max Mara, Prada, and Fendi have all ventured into alpine collections, creating fashionable ski looks and astonishing pop-ups near resorts. Besides skiing, upper class lifestyle sports like golf, tennis, snowboarding are becoming a new outlet for fashion luxury items. "By investing in these trendy categories, luxury brands can find and connect with their targeted audience quickly and effectively," points out Dudarenok.
Ashley Dudarenok is a speaker at the China Speakers Bureau. Do you need her at your meeting or conference? Do get in touch or fill in our speakers' request form.
Are you looking for more marketing experts at the China Speakers Bureau? Do check out this list.
Please follow and like us: