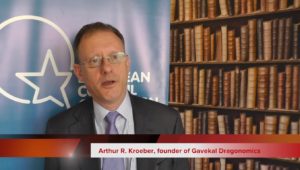 Private companies have a hard time getting bank loans, says economist Arthur Kroeber to Barron's. But that is nothing new, he adds, the problem is that state-owned companies get loans too easy. That division is more important than the level of China's debts, he adds. "Too much attention has been paid to the debt problem."
Barron's
Arthur Kroeber: The latest survey of corporate chief financial officers showed that the finance conditions for private companies is quite poor. There is a problem there, but they have always had that issue. The problems are not so much that private companies get too little; it's that state-owned companies get too much. It is loss of opportunities for private companies to expand and do as much as they are capable of doing…

Kroeber: I agree with the generalization that way too much attention has been paid to the debt problem and its significance has in many ways been exaggerated. But I think there are some issues that are material. China's gross debt to GDP is probably around 260%. That is not particularly high for a developed economy, but it is extremely high for a developing economy. Although you have not had deleveraging in the sense of a reduction in that ratio, it is clearly an aim of government policy not to let that ratio rise—or not very much. It is an important constraint on policy and one of the reasons, over the last year and a half as the economy has slowed, that the government doesn't want to do more debt-fueled stimulus.
Arthur Kroeber is a speaker at the China Speakers Bureau. Do you need him at your meeting or conference? Do get in touch or fill in our speakers' request form.
Are you looking for more financial experts at the China Speakers Bureau? Do check out this list.
Please follow and like us: